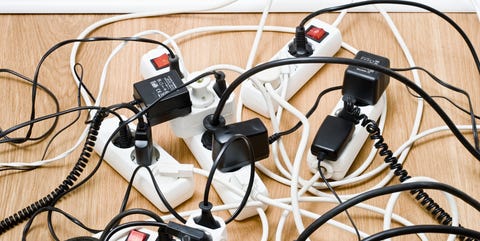 The 1980s brought us the computer age and also ushered in the power strip. Most people had a desktop computer and monitor, and maybe a printer—but add to those external drives, scanners, wireless routers, and other peripheral devices, and those two standard outlets most of us had were simply overwhelmed. Now we've got laptops, tablets, smart phones, and wireless Bluetooth devices—and we're still tied to those power strips.
Today, power strips often incorporate USB ports and surge protection. The proliferation of wireless handheld devices that charge at lower voltages make surge protection more important than ever. What most people don't know about surge protectors is that they wear out over time. Every time they absorb a voltage fluctuation, their lifespan is shortened. You'll probably know if you've had a lightning strike, but you might not know that every time an electrical appliance cycles on or off, there may be small voltage spikes degrading that surge protector every day. So, to be sure you're getting the most protection you can, it's a good idea to replace them every two to three years.
How We Selected These Power Strips
These power strips were carefully selected by our test editors after rigorous research and our knowledge using similar products. We have included brands and features we know and appreciate when it comes to our own experiences and needs when considering power strips. The 12 power strips included below are some of the most useful models available today.
---
One Beat
amazon.com
$19.99
This desktop power strip gives you three outlets within reach, in addition to four USB ports. The five-foot cord is covered with braided black, white, and grey cloth, giving it an elegant retro look. And a flat plug on the cord means you'll be able to push the desk right up close to the wall.
3-Outlet Travel Surge Protector
This portable surge protector sports two USB ports and one socket, perfect for when you're on the road and want to ensure extra protection for your electronics. The surge protector itself won't obstruct your bottom wall outlet when it's plugged in.
The last thing you want to do with a power strip is daisy-chain one with an extension cord. If you need to plug in a couple of devices far from a wall outlet, you'll need a surge protector that has a long cord of its own, like this 15-foot one from Kensington. It's no-frills otherwise, but it will provide 540 joules of protection and has an LED light to indicate that your gear is actually protected.
Well suited to the edge of a desk or the corner of a room, the JACKYLED power strip tower has 10 outlets, four USB slots, and a six-foot cord, so that you can plug in devices from multiple angles. It has 780J protection and a small handle on top so you can lift/move it easily.
An APC uninterruptible power supply (or UPS) is a great investment if you're looking to protect your gear and get a bit of battery power during an outage, but the company's surge protectors are also a solid choice if you just need some basic protection. This one in the Home/Office series has plenty of well-spaced outlets, along with two USB cords to keep all your devices powered and charged. You'll also get some added peace of mind from APC's lifetime warranty and equipment-protection policy.
Powrui's outlet extender is just a power strip without a cord that plugs directly into an outlet. Oh, and it has an automatic nightlight with three brightness settings, two smart USB ports, and not just one, but three levels of surge protection.
Beva's 9-outlet power tower is an attractive desktop solution for your power and charging needs. Four smart USB ports are provided to charge phones, tablets, and other small electronics. A single switch on top controls power to the outlets, and a circuit breaker provides overload protection in addition to the unit's surge protection.
PowerStrip/Surge Protector
Many surge protectors with built-in USB ports still use lower amperage ports that can take longer to charge mobile devices, but this one from Holsem has a pair of 3.1A Quick Charge ports that should charge them as fast as any other charger. You'll also get one extra standard USB port besides those, and an ample 12 AC outlets, six of which are spaced to accommodate larger power adapters.
ECHOGEAR
amazon.com
$17.99
This surge protector plugs in directly over the outlet, and replaces the two existing outlets with six. Outlets rotate up to 90 degrees, so that large plugs don't cover neighboring outlets, and so that plugs and cords are parallel to the wall, making the unit ideal for tight spaces.
12-Outlet Surge Protector
If you don't think you'll need the swiveling plugs of Belkin's PivotPlug, you can save a bit of money by getting the company's standard 12-outlet surge protector instead. It's a top pick among LifeHacker readers, and like the PivotPlug, it includes a clip for keeping all those cables nice and tidy.
If you need to plug in a bunch of devices with adapters of various shapes and sizes, you won't do much better than Belkin's 12-outlet PivotPlug, which is a top pick of TechHive. Eight of those outlets swivel so you don't have to worry about one plug obstructing another, and all of them provide surge protection with an impressive 4320 joule energy rating. A detachable clip also helps to keep all of those cables in one place.
If you're looking for a truly fail-safe surge protector (short of a full-fledged uninterruptible power supply), The Wirecutter found Tripp Lite's TLP1008TEL surge protector actually shut off power to your devices when its surge protection abilities wear out (as opposed to simply warning you). Beyond that feature, you'll get an ample 10 outlets, four of which are spread out a bit to accommodate larger AC adapters.